The day started pretty early today, don't know when but it started going to the waterfront with Manon and Cecile.
We just went for a walk and ended up going to "Munchen" the german restaurant here.
They had an oktoberfest event today, which I missed, but tbh I didn't really care, didn't really cared about the event.
I told them, because of the people drinking to much alcohol and just throwing up and doing problems.
And puff! No shit, there was this one dude, laying on the floor and just vomiting and being passed out!
I was so surprised about that, no shit, but hey, I told them!
---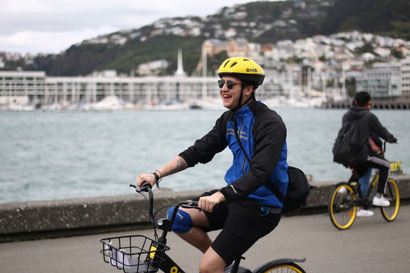 When we walked back, I saw one of the "OnzO" bikes, it's basically a rent a bike system here in Wellington.
I've just seen people riding around the city, but there was this one moment, where I saw a bike, just waiting to get picked up...
So I did..... I got the app, made an account and sat on the bike...
Oh my god, I was so fuckin happy, I can't even describe it!
 But this picture can.
---
My speaker broke a few days ago.... 
Don't really know what happend, but I really wanted to get a new one!
Luckily I had the receipt, so I just drove to Warehouse and could change it, that easy....
I was so happy that I had the receipt, really, it made the day even better
---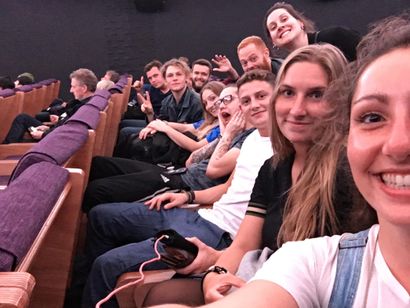 In the evening we went to the observatory,
to see the stars...
The group that I have right now, I am really I have them as it is.
Everyone unique, and you can hang out with everyone in different ocassions, situations.
We watched the "Dark Matter" thing, which I already saw, but I didn't mind watching it again!
It was really nice!
---
Well, to let the evening cool down, I went to the long-term-flat and had some drinks, maybe to much aaaand then I went out, with my colleagues aaaaannnd I don't remember shit!
But, luckily I didn't spend money that night!