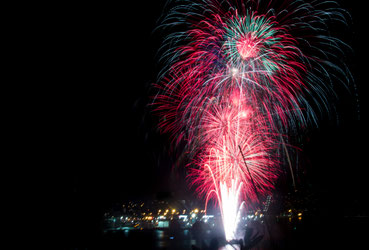 Today, I was lazy, didn't do much, just laying in the van, watching Shameless..
Later on at about 6:30 PM,  there was a firework, the Mataraki, Maori New Year
It was pretty cool seeing a firework again, especially cause I am gonna miss out the "Schlossseefest"  this year, where I always saw a firework, every year, for the last decade..
Later, I went to "Dakota" with Felix and Julan, but it was kind of a very boring mood...
I just stood up, went to some kiwi girls and started having a chat with them.
Two very kind and attractive women haha.
We then went to Danger Danger, where we had some drinks and started dancing.
I wanted to check on Jordan in the van for a minute and when I came back, both of them left.
I felt kind of dumb at that situation, but oh well, happens.
So I was sitting there alone, for 15 minutes or so, then Jordan came and the mood was brighten up again..
We talked to some people here and there, just, every day, new people, it is so much fun!
And the time just flys by, every time.
Staying awake until 4 AM?
Easy..
But I really gotta take care of my money... I am spending to much money on alchol lately...