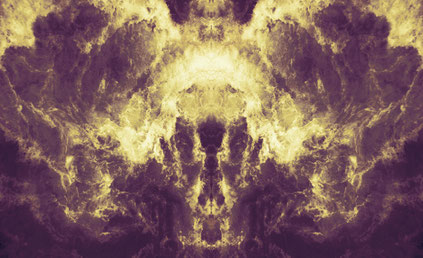 I had a really rough night haha...
I was super drunk and I was out with Jordan and two other maori people from Taupo, damn that was tough..
I don't really remember much at all, but this girl was so insanly bossy,
damn that was so weird..
We got to a petrol station and there was this guy with the guitar who got into an argument with the maori guy..
It ended up that this guy crashed into our car on purpose, I don't know why tho..
I got to the van at about 4.30 AM or so, I realized then, that Jordan and I had an appointment for a walkway nearby..
so my morning was pretty tough, but luckily, he went back to the van earlier so he was not in the horrible mood that I was in haha.
---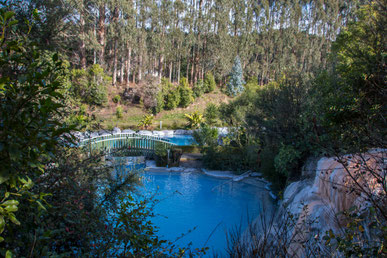 At the walkway, we ended up being in a place where they had hot pools.
we only booked the walkway, which means that there was no hot pools included.
(We booked it so we could have a swim again)
I had the problem that I couldn't put my arm into water because of the chlorid and the minerals would have eaten up the tattoo because it's still an open wound.
It was so good tho, to finally be in water again and just go for a swim and it was pretty quiet too, there was pretty much noone!
---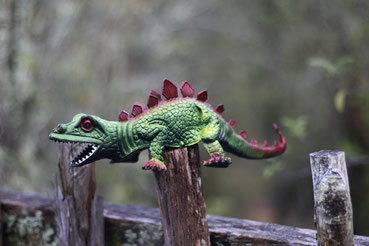 The walkway was fun too!
We have a new crew member who is called Frank!
Frank is a dinosaur we adopted, who will from now on be part of my adventure!
We took Frank withus, made some slick pictures and walked around the area.
Very steamy, very smelly but very interesting seeing the activity of the water.
---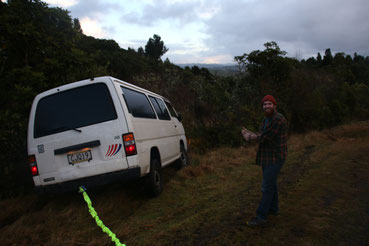 So, we started to go to Mount Taranaki.
Suddenly, there was a cool place to take a nice shot, beautiful landscape, ray of lights hitting the canvas, very nice!
Jordan slowed down for me to take pictures, so he tried to stop sideways in the grass....
We didn't had any grip and got dragged into the sideway... we crashed!
Oh my god, that was so scary at the first moment, everything just flying around in the car and I was like "oh fuck, roadtrip got short eh?"
We had to wait for some cars, luckily the people were so generous to stop and help us, damn, so many people stopped and have been helping..
One car tried to pull us out but it didn't work, when of all sudden a truck came by and just pulled us out of there.
No real damage to the van, luckily...
Damn it could have gone so much more worse!
---
We then came to a place called "Taumarunui"
We saw many people being here, crowded so we decided to stay it got dark anyway.
We found out that today, it is the Maori New Year and lights are getting hung out everywhere in the park.
Damn, it is so beautiful!
Ofcourse I didn't miss out taking some pictures!
Tomorrow we will drive to Mount Taranaki, we don't intent to stay to long tho, because we wanna be in Wellington on the 4th of July, American Independence Day, gotta celeberate that with Jordan! :D