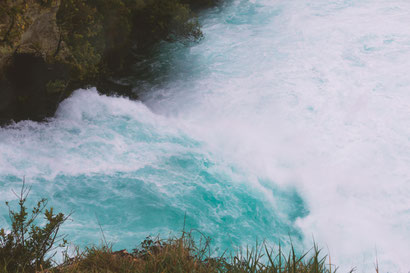 Sleeping the van today was pretty cozy,
I bought some new warm socks today and used a blanket in the night, it wasn't cold at all!
We then started to go to drive to Taupo.
While driving, I noticed we could make a stop at the "Keresone Creek", cause Jordan hasn't been there yet.
It was good having a bath again, even tho it's so "sulphury".
On the way to Taupo we saw the sign "Huka Falls Crater of the Moon", and I said: "Hey that sounds cool, lets stop there!"
When we came to the "Huka Falls", I realized I have seen them on the internet somewhere.
A massive stream of cyan water, it looked so amazing!
I couldn't get the beauty into a proper picture, but it was definitly worth stopping there!
The "Crater of the Moon", we had to pay for that tho, so we didn't go...

Now in Taupo... sitting in a coffee, editing my pictures and drinking hot chocolate..
Im getting many compliments about my tattoo, I like that people "like it too" haha!
We wanna go to the "eleMents" later on, it's sunday, but yeah, we'll see how it is! :)