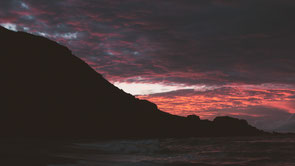 It has just been working all the time, but now... we have two days free???
I mean yeah having free, woho.. but 2 days is sure to long after such a long time just going to work...
So basically, we sleept until... 12 AM, or so..
Made some food, cleaned up our rooms and went to Pak' n Save to get some groceries.
I didn't get anything, cause im fine for now, but the funny thing is, I was talking to Janis via WhatsApp and by using video chat, it was super fun showing him around in the Pak'n Save! 
Then we drove up the beach and met with Teresa,
she actually got a nice place to stay now and we took her and a friend down to the beach to play some volleyball.
It was super fun!
Jordan and 2 other friends also came along and also two other guys joined our match, super funny!
And then there was this beautiful sunset, damn..
I didn't check the pictures yet but im looking forward to that!
After the beach, we went to get some food, we ended up getting Mexican!
It was really really nice!
Also an Lava Cake in Burger King and yeah that was pretty much it!
Got back home and just relaxed, until Annkatrin came over to pick up some pictures, back when we were in Rotorua!