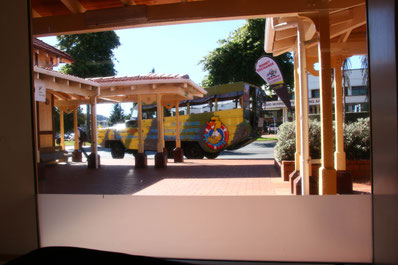 My day, started pretty early again,
I was awake at 7 AM, and I didn't do much at this time.
I was talking to one of my friends.
Showing him my accomodation, talked to him, kind of cleared out what was going on in the last time!
Then, at 9 AM, I went to Rotorua,
went to the i-Site, downloaded some stuff on my laptop.
It wasn't super fast, but still free so it was fine.



---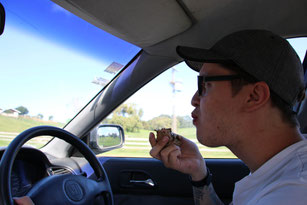 Then, Octavia and I decided to go to Waitomo, to see the Glow Worm Caves!
So we went to Ruakuri Caves and also to the Waitomo Caves!
We thought it will be a one hour drive, not more, but basically it was two hours of drive.
Good thing we had a car.
So I was driving to Waitomo, driving for a long time in New Zealand.
I kind of got used to it I guess! :)
So yeah, we first went to Ruakuri, plan was to get there at 1 PM, when the tour started, and we almost missed it, it was about 12:59 AM, we had so much luck!


It was a really cool experience being in the caves, I loooooved the atmosphere, the formations, the cold temperature, everything!
And there you could also see the glowworms, not much, but some!
Then we went for a a walk at the Ruakuri Bushwalks, just cause we had some spare time.
Walked around in the forest, pretty cool too!
Then we went to the Waitomo Glow Worm Caves, I got no pictures here but it was very very nice!
We were basically on a boat, swimming on a sea in pretty much darkness, just seeing the glowworms shine in the cave.
I must say, I was hoping for more glow worms, but it was still very cool, because you had to be silent the whole time and it was very beautiful to see with the eyes instead through my camera!

Then we drove home, got something to eat, and ate it back at my house.
Now im really freakin tired and need to get some rest...