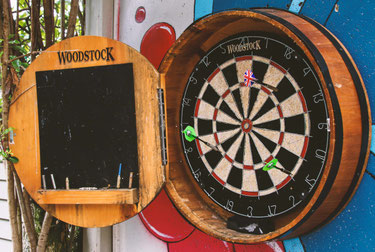 After I managed all at the "IEP" I went out to go back to my dorm,
but on the way I saw something next to "Burger King"...
A GAMING CENTER
Like, not with computers and stuff where you can play Online..
Nonono, a place where there are machines, like these machines where you have a hook and have to grab stuff, 'n stuff.


There was this one guy, playing this "dance game", where you have patterns on the floor and you have to dance to the beat.
Damn this dude was soooo good!
I was so amazed how fast he was doing that and he was sweating so much, he had this huuuuge ventilator (english word?), that was blowing directly at him!
So, well, I took myself a card for 10 NZ$ and played some games.
There was this one shooter, it was like a shooter, where you had 180° vision, it was such an amazing experience and I must admit, for 2 credits I did pretty good I would say... I mean I managed to get on Rank 10 in the total best plays hahaha! :D
Then I played some "Deal or No Deal" and some "Sink it" (Bierpong), yeah... "Sink It" hahah.
When you win, you get some tickets, which you can exchange for a variety of stuff, I took one little bear, I decided he will be my travelbuddy here in New Zealand.
Then I went to "Macces" how they call it here (McDonalds), and they had this "special" burger called the "Kiwi Burger".
It contained, red beet, egg, aaannd... ehm... I can't recall really, but it sure did taste different.
After that I went back to my hostel, surfed on the internet and then realised oh... Today is Monday... here in this hostel is Movie Night on Mondays, so I went down to the TV Lounge, but there was no movie, but some people there watched TV so I joined them! :)
One belgium girl and one german dude, we watched "John Wick: Chapter 2" and "Central Intelligence".
Inbetween those movies I went to the local store, grabbed myself some stuff for breakfast and a drink called "Soju" with Pineapple flavour, pretty much pineapple with vodka haha.
I don't like Soju... I gave it to that one belgium girl, because she likes that kind of stuff :D
Well now after the movies, im pretty tired... gotta stand up early tomorrow, at about 8 am or so, to get to the bus at 9.30 am, to go to Rotorua!..