So today, basically, I woke up and felt like yeah, the wine last night was pretty good!
We packed our stuff and had to get out of the hostel pretty early, we there was no time to wake up and be fully energetic.
I had to say goodbye to Julian today, he sure was a cool guy and im looking forward to see him back in Germany then! (because he lives near "Ulm", pretty close to me)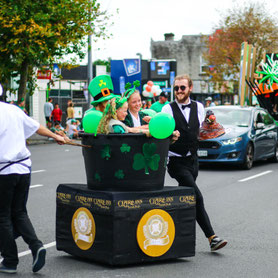 We went down to another hostel,
the "Uenuku Hostel" down in the Ponsonby Rd.
Checked in, looking for the next dairy, I was like, wait....why is everyone wearing green colors and such??
Well, today is St. Patricks Day.... oh okay...
And right infront my hostel was a parade, it was soooo amazing like, I was feeling very very happy in that moment, to actually be here and see this parade!
Like, I was so happy I could have cried there hahaha.

After the parade I didn't do much... I got into my dorm, and slept for a few hours, was pretty tired...
Later, I made some noodles with sweet sour sauce, yeah... it wasn't amazing but sure something! :)
At the evening, at about 8 PM or so, some people from our hostel went to the nearest gaming center, were we played some pool!
I met this new guy, Jack is his name, he is from canada, pretty nice guy!
We played against each other, best of 5 ... well... he won, but it was a very nice matchup!

I'm going to stay in Auckland for another day, tomorrow, I wanna go to "IEP" to get my IRD and look for some jobs, I kind of want to work... so I just wanna see what options are available, and where...