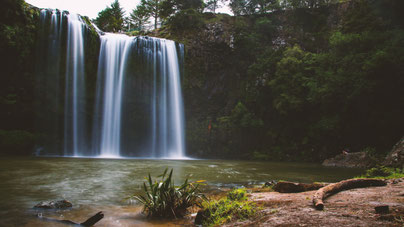 Our first stop was in "Whangarei", 
we pretty much just slept there.
We arrived last night at about 12 PM,
so we actually  just went to bed, made some breakfast and headed up to the north.
Before that we acutally got told, that there is a "waterfall" nearby.
Rene, a girl from the netherlands told us to go there, so we took her with us and witnessed the waterfall.
It was a huge waterfall, my first huge waterfall acutally. :D

So after that we went up to "Russel", because the locals recommended us to visit this small city on our way up to Cape Reinga.
Well, we got found up in a bicycle race, where the goal was "Russel" so we pretty much passed a lot of bicycler? (is that a word?
As we arrived in Russel, there was a tattoo shop, yeah, I made myself a tattoo in about 10 minutes.
The way up to the North was pretty long, we drove about 6 hours or so until we arrived at our hostel.
The hostels name is the "North Wind Lodge Hostel".
It is an ammaaaazing hostel and we have been here on our owns, a huge house for 2 people only
(because no one else booked in that night).
We sure had a great stay here in that hostel, tomorrow we are heading out to "Cape Reinga" and to the "90 Miles Beach", but the weather sure doesn't look promising...